MAY 20-22
ARMITAGE AVENUE
The festival season has arrived!
Mayfest, which benefits the Ranch Triangle Association,
will usher in the long-awaited summer season. The event will take place on Armitage
from Sheffield to Racine and will include live music from Chicago's pop rock, jazz, and
everything in between, as well as food, refreshments, a kids' area and even the
Armitage Art Show.

Mayfest takes place from May 20th to May 22nd, with hours from 5 p.m. to 10 p.m.
on Friday and noon to 10 p.m. on Saturday and Sunday.

See the map below and please note that Armitage Avenue from Sheffield west to Racine
will be closed to vehicular traffic during this weekend. There will be signage showing
the street closure at Clifton, Kenmore and Seminary. For those residents north of
Armitage we suggest using Dickens and Webster for westbound travel and Webster and
Belden for eastbound travel. For those residents south of Armitage we suggest using
Willow, Concord and North for eastbound and westbound travel.

We hope this event produces a positive economic impact to our local businesses while
providing a weekend of fun for residents of all ages. Please mark your calendars for this
new and exciting street festival in our community.
For questions or additional information, please contact [email protected]
RANCH Triangle Community Conservation Association
PO Box 14833, Chicago, Illinois 60614-0780
www.ranchtriangle.org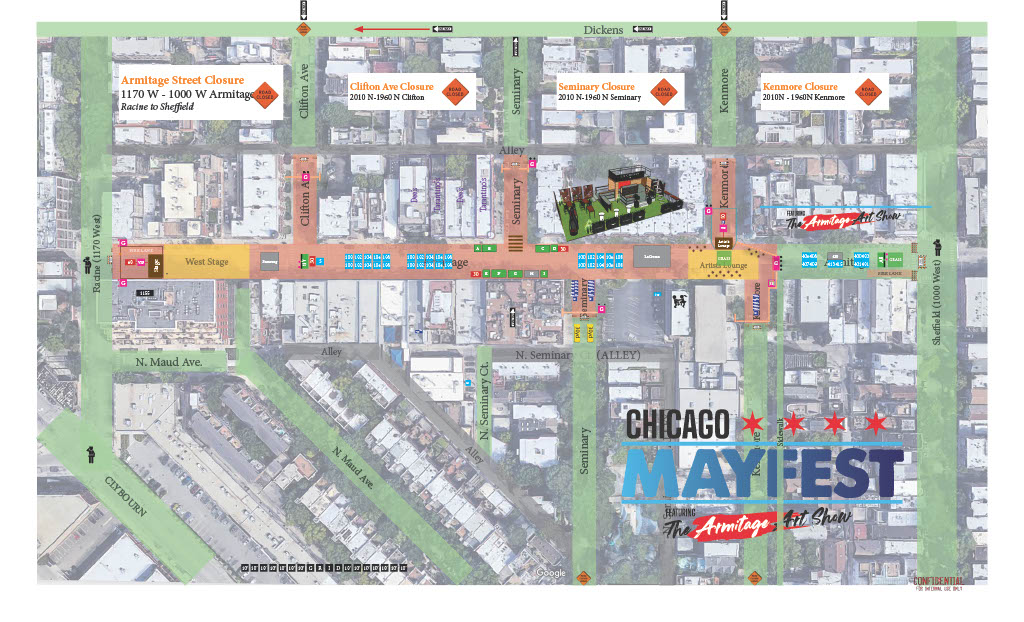 Or click here for a downloadable version.